Mushroom cultivation Training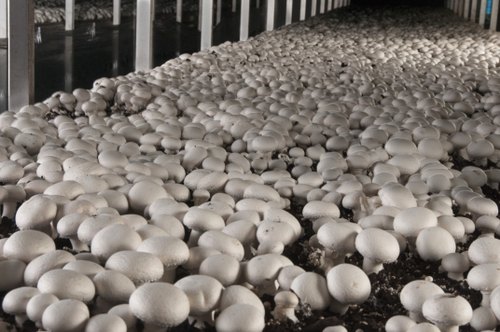 Mushroom cultivation training programme provides knowledge about mushroom varieties, spawn preparation, cultivation methods, scope of mushroom cultivation, and its benefits. Mushroom cultivation training course is conducted by
Dr. UK Institute of Health Sciences & Research
in Chennai, and Villupuram.
Who can attend Mushroom training courses?
Mushroom farming has a tremendous scope in Tamil nadu. Mushroom training programmes can be attended by any one those who wish to know about mushroom health benefits & its importance. However this training will be very useful for Entrepreneurs, Farmers, Youths, Students, house wives, Self Hand Groups, and Non Govt Organizations, Farmers, Mushroom buyers, Sales, and etc.
Scope of Mushroom Cultivation
Nowadays all types of people are preferring mushrooms to eat. Both vegetarians and non vegetarians prefer mushrooms because mushrooms are good in taste so it is having more demand than other food products. Mushrooms are serving as food in many countries. These are very delicious to eat and have a huge scope in the medicinal field. Mushrooms are having a huge demand in pharmaceutical and cosmetic companies. Mushroom cultivation business is also very helpful to earn a lot of money.
Mushroom is one of the main dishes in India and throughout the world. If the population increases the demand for mushrooms is also increasing. Edible mushrooms are the fleshy and edible fruit bodies of several species. Edible mushrooms are consumed by humans for their nutritional and occasionally medicinal value as comestibles. Mushrooms consumed for health reasons are known as medicinal mushrooms. Edible mushrooms include many either harvested wild or cultivated. Easily cultivable and common wild mushrooms are often available in markets.
Is it Mushroom Cultivation profitable ?
• It requires less labour. • It can grow in any season and in any climate. • The demand for Mushroom is growing day by day. Mushroom Cultivation is more profitable compared to other cultivation.
Is this mushroom training course approved?
Mushroom cultivation training course is approved by Bharat Sevak Samaj, National Development Agency, Govt of India, New Delhi.
Whose conducted this mushroom training program?
Mushroom cultivation training program is conducted by Dr. UK Institute of Health Sciences & Research, Chennai, Tamil Nadu, India. Dr. UK Institute offering
100% job oriented courses
. All courses are approved by Bharat Sevak Samaj, National Development Agency, Govt of India, New Delhi.
Is this Institute approved?
Dr. UK Institute of Health Sciences & Research
, Chennai, Tamil Nadu, India is approved by Bharat Sevak Samaj.
Eligibility for Mushroom training Programme
8th Pass / 10th Pass or Fail / 12th Pass or Fail / Graduates / Post Graduates.
The above eligibility criteria is applicable for BSS Mushroom Cultivation Certificate Course. However anyone can join this mushroom training program.
What is Mushroom?
Mushrooms are the fruiting body of Microorganisms like Fungi. The term mushroom is used to identify the edible sporophores. Most known mushrooms are umbrella shaped.
Is it mushroom good for health?
Mushrooms are good for giving energy and increasing immunity.
Nutrition in Mushroom
mushroom is more than 90 percent water, less than 3 percent protein, less than 5 percent carbohydrate, less than 1 percent fat, and about 1 percent mineral salts and vitamins. Mushroom is a rich source of B vitamins, such as , selenium and copper , and a moderate source of phosphorus, zinc and potassium. They have minimal or no Vitamin C and sodium content.
Benefits of Mushroom
• Mushrooms can control Cholesterol, Body weight, Diabetics, Blood Pressure, Breast Cancer, and Prostate Cancer. • Mushrooms improve bone health, eyesight, and Brain power. • Mushrooms contain 19% to 36% of proteins. • The Fat percentage of Mushrooms is only 1 to 8%. • Mushrooms are rich in Calcium, Iron, Vitamin D, B2 and B3.
Mushroom Varieties
1. White Button 2. Crimini 3. Portabella 4. Shiitake 5. Oyster 6. Enoki 7. Beech 8. Maitake 9. Royal Trumpet
What is the best way to store mushrooms?
Mushrooms can start to deteriorate quite quickly and, if bought per-packaged, they are often best kept in their original packaging in the fridge. If you buy loose mushrooms then they should be stored in a paper bag or in a container (without the lid) wrapped with plastic that is punched with a few air holes and stored in the fridge. However, there could be a way to boost the vitamin D in your mushrooms naturally at home. Place them on a windowsill for just 1-2 hours to give them an extra shot and place them 'bottoms up' so that the underside of the caps is exposed. This is the area most sensitive to light.
What is the best way to cook mushrooms?
Whilst mushrooms can be eaten raw and may have a beneficial effect on the digestive system, certain cooking methods have been shown to increase some of their nutrient status, especially if grilled or cooked in a microwave. Some mushroom types (namely white button, shiitake, oyster and king oyster mushrooms) along with different cooking methods are exposed to short cooking times they retain more of their vitamins and nutrients. Microwaving or grilling mushrooms significantly increased their antioxidant activity, even when grilled in a small amount of oil, when compared to boiling or frying.
Can mushrooms help protect against cancer?
In particular, certain varieties of mushrooms have been shown to have potential in protecting against cancer by protecting our cells against DNA damage but also inhibiting tumor formation. There is also some evidence that they may be beneficial in the treatment and management of degenerative diseases such as Alzheimer's.
Can mushrooms protect heart health?
Mushrooms have been shown to have some therapeutic properties that can help to lower cholesterol, particularly in overweight adults, as well as phytonutrients that can help prevent cells from sticking to blood vessel walls and forming plaque build-up. This in turn then helps protect the heart by maintaining healthy blood pressure and circulation.